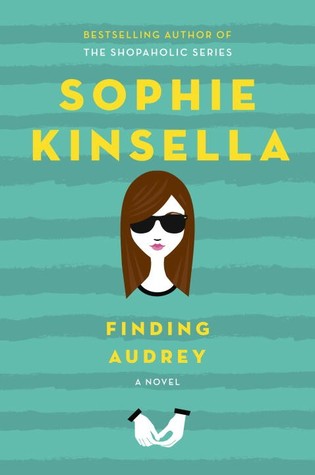 Title & Author: Finding Audrey by Sophie Kinsella
Genre:  Young Adult- Contemporary
Release Date: June 9th 2015
Series: Standalone
Publisher: Delacorte Books for Young Readers
Source: Library
Description: An anxiety disorder disrupts fourteen-year-old Audrey's daily life. She has been making slow but steady progress with Dr. Sarah, but when Audrey meets Linus, her brother's gaming teammate, she is energized. She connects with him. Audrey can talk through her fears with Linus in a way she's never been able to do with anyone before. As their friendship deepens and her recovery gains momentum, a sweet romantic connection develops, one that helps not just Audrey but also her entire family.
ANXIETY, SNOGGING, COFFEE SHOPS, REPEAT
Audrey is such a great character. This whole book blew me away. It's representation of mental illness and the struggles people go through was the best I've read so far. Mental illness definitely effects everyone around the individual. We never really get to find out what really happened to Audrey but I think that really helped others put themselves in her shoes. Her use of "lizard brain" to describe the fight or flight response and chemical imbalance in people suffering from Anxiety was well applauded. By breaking down such a widely misunderstood mental condition even people who know nothing about anxiety would be able to better realize what exactly happens to a person then just viewing them as having a "freak out." Even Linus is quoted with pointing out how Audrey should just be able to "get over it." Which is a term a lot of people through in the faces of people suffering with mental illness. Unfortunately it just doe not work that way.
Another point I would like to shed light on is the fact that while Audrey was on the mend she began to stop taking her medication thinking she was good enough to go without. That is another thing people do ALL THE TIME. Those pills help keep your chemical imbalance in check. When you take them and feel fine it is because of those pills, you can't just stop willy nilly and think nothing bad will happen. Trust me, I've seen plenty of friends experience the backlash.
Also, the game Linus and her brother play was errily similar to a game I am familiar with (the boyfriend plays it all the time) called League of Legends. I thought that whole scenario was pretty cool. It showed the misconception of games as "hobbies" versus actual career choices which is really prominent right now.
Audrey and Linus are just so good for each other. After Audrey better explains what's going on with her anxiety Linus takes it in stride and does everything he can to push her out of her shell. When she needs to take a step back he's there to help her recover. The only really small issue I had was the thought of Linus as a crutch. He's helped her so much I would hate to see what happens if they were ever to break up. Maybe Audrey would relapse, maybe not.
This book was crazy cute. Emphasis on crazy. Linus is such a sweet boy even if he was a bit dense on the workings of mental health. You can't just wish yourself well and that solve everything. The growth in all  the characters was great to see. Finally Audrey's mother settles down- somewhat by the end.
Yes! I loved this story so much I wish It was longer. Maybe there will be a second book???
Goodreads | Amazon | Sophie Kinsella's Website
Banners edited from Freepik.com