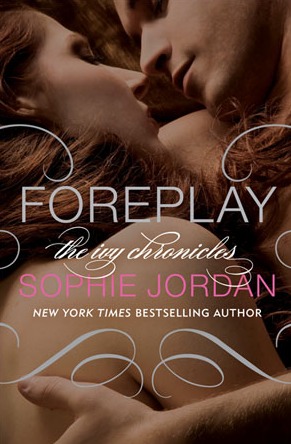 Title & Author: Foreplay by Sophie Jordan
Genre:  New Adult- Contemporary, Romance
Release Date: November 5th 2013
Series: The Ivy Chronicles #1
Publisher: William Morrow
Source: Scribd
Description: Before she goes after the life she's always wanted, she's about to find the one she needs
Pepper has been hopelessly in love with her best friend's brother, Hunter, for like ever. He's the key to everything she's always craved: security, stability, family. But she needs Hunter to notice her as more than just a friend. Even though she's kissed exactly one guy, she has just the plan to go from novice to rock star in the bedroom—take a few pointers from someone who knows what he's doing.
Her college roommates have the perfect teacher in mind. But bartender Reece is nothing like the player Pepper expects. Yes, he's beyond gorgeous, but he's also dangerous, deep—with a troubled past. Soon what started as lessons in attraction are turning both their worlds around, and showing just what can happen when you go past foreplay and get to what's real…
LET THE STEAMY TIMES ROLL
I think I got second degree burns from how hot this book was! Ouch!
Pepper's character was adorable, quirky, innocent and a RED HEAD! Yea! Go team red heads. Pretty much Pepper is an all around goody-goody who is ready to break out of her shell in the hopes of nabbing Hunter who she has been crushing on since the dawn of time. Her friends think she just needs to show off her availability and skills to wow him and they know just the hunk to do it!
Of course this wouldn't be a true NA book without a heaping dose of humor, embarrassment and drama. Everything about this plot is new and refreshing with the way Sophie writes these characters and situations. I quickly became invested in Reece and Pepper and rooted along as they explored the world of foreplay and "mock" dating. Watching as Reece opens up to Pepper was so sweet and I couldn't help but be proud anytime Pepper grew as a person.
I can't really say much more without giving away all the juicy bits and plot twists but this was easily my top read New Adult book of 2015.
This is by far my favorite New Adult book to date. Everything about Pepper and Reece's relationship was gorgeous, steamy and real. Both wrestled with the inevitable loss of each other only to find what they truly needed was each other. If you are looking for a great New Adult book look no further! You better believe I'll be checking out more of Sophie Jordan's work.
Yes this is a must read for all those that love New Adult books!
Goodreads | Amazon | Sophie Jordan's Website
Watercolor banners from freepik.com all edits my own