Hello everyone! I haven't done a tag challenge in awhile and the lovely Tasha at Head in the Clouds, Heart in the Books. She found this challenge on Trey Schnarr Books. If you enjoy this tag I highly recommend checking out both of their blogs. The Book Cover Guessing Challenge was created by Trey a few months ago.
So for this challenge what you do is you pick a few books (typically well known) that you know little or nothing about and guess what they are about based on the cover and title. Then, you compare it with the actual blurb on Goodreads and see how you fare. I've chosen 7 books I've frequently come across but really know nothing about.
Let's see how well I do!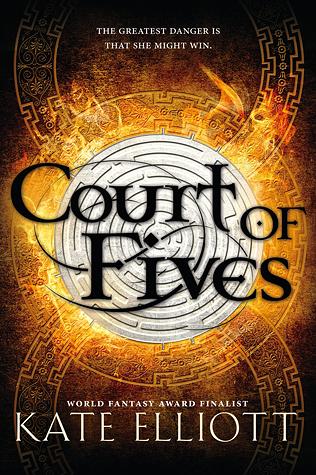 Court of Fives by Kate Elliott
What I think it's about: Magic! Courts! Five different magical courts? I honestly know nothing about this. I do not even know who/what the main character is. It could be a dragon for all I know.
Goodreads blurb: Jessamy's life is a balance between acting like an upper class Patron and dreaming of the freedom of the Commoners. But at night she can be whomever she wants when she sneaks out to train for The Fives, an intricate, multi-level athletic competition that offers a chance for glory to the kingdom's best competitors. Then Jes meets Kalliarkos, and an unlikely friendship between a girl of mixed race and a Patron boy causes heads to turn. When a scheming lord tears Jes's family apart, she'll have to test Kal's loyalty and risk the vengeance of a powerful clan to save her mother and sisters from certain death.
Verdict: Oh man I was way off! Although this does sound super exciting. Kinda sad no Dragon as the main character.
---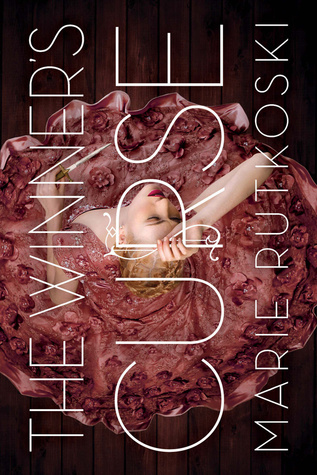 The Winner's Curse by Marie Rutkoski
What I think it's about: Obviously a gorgeous girl who gets to wear amazing dresses! I'm thinking a game or trial the MC has to go through but even if she wins or looses she still gets cursed? Or maybe she's cursed to always win but in a dark plot twisty way?
Goodreads blurb: As a general's daughter in a vast empire that revels in war and enslaves those it conquers, seventeen-year-old Kestrel has two choices: she can join the military or get married. But Kestrel has other intentions.
One day, she is startled to find a kindred spirit in a young slave up for auction. Arin's eyes seem to defy everything and everyone. Following her instinct, Kestrel buys him—with unexpected consequences. It's not long before she has to hide her growing love for Arin.
But he, too, has a secret, and Kestrel quickly learns that the price she paid for a fellow human is much higher than she ever could have imagined.
Verdict: Uhg off again. But this sounds super intriguing. No wonder a lot of people love this series. Falling for a slave is definitely a no-no.
---
Mosquitoland by David Arnold
What I think it's about: I don't know how I've gone this long without spoiling it but I know nothing about this book. It looks to be about a girl on a journey, cross country maybe? Since buses go pretty far. I think this will be a coming of age novel or something like that.
Goodreads blurb: "I am a collection of oddities, a circus of neurons and electrons: my heart is the ringmaster, my soul is the trapeze artist, and the world is my audience. It sounds strange because it is, and it is, because I am strange."
After the sudden collapse of her family, Mim Malone is dragged from her home in northern Ohio to the "wastelands" of Mississippi, where she lives in a medicated milieu with her dad and new stepmom. Before the dust has a chance to settle, she learns her mother is sick back in Cleveland.
So she ditches her new life and hops aboard a northbound Greyhound bus to her real home and her real mother, meeting a quirky cast of fellow travelers along the way. But when her thousand-mile journey takes a few turns she could never see coming, Mim must confront her own demons, redefining her notions of love, loyalty, and what it means to be sane.
Verdict: I was close! Traveling across country to be reunited with your mother sounds amazing and heartfelt.
---
Legacy of Kings by Eleanor Herman
What I think it's about: I know this isn't out yet but it's gotten some serious hype. People on my feed have been gushing about wanting/receiving the arc of this for ages. I'm just going to go with the simple kings, magic, fighting, high fantasy.
Goodreads blurb: Imagine a time when the gods turn a blind eye to the agony of men, when the last of the hellions roam the plains and evil stirs beyond the edges of the map. A time when cities burn, and in their ashes, empires rise.
Alexander, Macedonia's sixteen-year-old heir, is on the brink of discovering his fated role in conquering the known world but finds himself drawn to newcomer Katerina, who must navigate the dark secrets of court life while hiding her own mission: kill the Queen. But Kat's first love, Jacob, will go to unthinkable lengths to win her, even if it means competing for her heart with Hephaestion, a murderer sheltered by the prince. And far across the sea, Zofia, a Persian princess and Alexander's unmet fiancée, wants to alter her destiny by seeking the famed and deadly Spirit Eaters.
Verdict: Holy hell this sounds amazing. It sounds like a YA version of Game of Thrones. Obviously there is magic, kings and high fantasy so count me in!
---
I don't think the purpose of this challenge was to add to my TBR pile but it totally did. UHG.
This was really fun to do and I don't normally get a chance to tag people so here I go!
If anyone else does this feel free to say I tagged you! 🙂