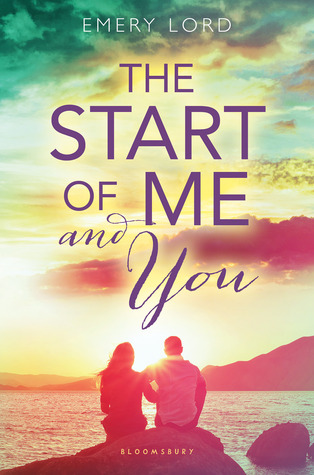 Title & Author: The Start of Me and You by Emery Lord
Genre:  Young Adult- Contemporary, Romance
Release Date: March 31st 2015
Series: Standalone
Publisher: Bloomsbury
Source: Bought
Description: It's been a year since it happened—when Paige Hancock's first boyfriend died in an accident. After shutting out the world for two years, Paige is finally ready for a second chance at high school . . . and she has a plan. First: Get her old crush, Ryan Chase, to date her—the perfect way to convince everyone she's back to normal. Next: Join a club—simple, it's high school after all. But when Ryan's sweet, nerdy cousin, Max, moves to town and recruits Paige for the Quiz Bowl team (of all things!) her perfect plan is thrown for a serious loop. Will Paige be able to face her fears and finally open herself up to the life she was meant to live?
BEST FRIENDS, HEARTACHE, GROWTH – AS HIGH SCHOOL SHOULD BE
WOW, just wow. I finished this book a lot sooner then I thought because I just could not put it down. The writing, the characters the everything was so beautifully done. This is my new favorite contemporary book.
First of all, everything about Emery's characters are realistic, relatable, and down to earth. Paige's group of friends is the ultimate friendship. The easy flow and way they all look out for and take care of each other is amazing. They pick up on very subtle clues and know when to keep pushing versus letting something go. All those girls by the end of the book were my best friends as well. What's even better is the simple way they embrace both Max and Ryan so easily without any hesitation or complication.
The relationships in this book are so complex and real. I found myself nodding along to things Paige would think or feel from my past high school blunder years. The way Emery unfolds the story had me misty eyed on more than a few occasions till I finally cried at the end. It was just so beautifully done. The emotions so raw.
Max is the best nerdy boyfriend material ever. He is the epitome of geeky. He is obsessed with airplanes, math, Firefly, the list goes on and on. Also, his subtle confidence in Paige's feelings was great. He noticed the signs before she did!
YES. Seriously I never expected to be so in love with this story but it just sucks you right in and never lets go.
Goodreads | Amazon |  Emery Lord's Website
Watercolor elements from freepik.com all edits my own.