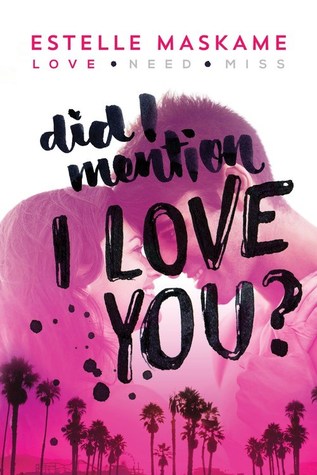 Title & Author: Did I Mention I Love You? by Estelle Maskame
Genre:  Young Adult- Contemporary, Romance
Release Date: December 1st 2015
Series:  DIMILY series #1 of 3
Publisher: Sourcebooks Fire
Source: ARC via the publisher
Description: When sixteen-year-old Eden Munro agrees to spend the summer with her estranged father in the beachfront city of Santa Monica, California, she has no idea what she's letting herself in for. Eden's parents are divorced and have gone their separate ways, and now her father has a brand new family. For Eden, this means she's about to meet three new step-brothers. The eldest of the three is Tyler Bruce, a troubled teenager with a short temper and a huge ego. Complete polar opposites, Eden quickly finds herself thrust into a world full of new experiences as Tyler's group of friends take her under their wing. But the one thing she just can't understand is Tyler, and the more she presses to figure out the truth about him, the more she finds herself falling for the one person she shouldn't – her step-brother.
Throw in Tyler's clingy girlfriend and a guy who has his eyes set on Eden, and there's secrets, lies and a whole lot of drama. But how can Eden keep her feelings under control? And can she ever work out the truth about Tyler?
Did I Mention I Love You is the first book in the phenomenal DIMILY trilogy, following the lives of Eden Munro and Tyler Bruce as they try to find their way in an increasingly confusing world.
FORBIDDEN ROMANCE MEETS YA
I receive a free advanced readers copy from Netgalley in exchange for a honest review. All comments are strictly my own and nothing influenced my review.
Wow Ok I never thought I would be reading a forbidden romance stepsibling series that is YA but it works ok guys? It super works. I just finished this last night and gushed and gushed to my boyfriend about how I loved the story and the personal growth of characters and psychotic significant others in this book. (Which fell on deaf ears because he was playing a video game but still.)I didn't know this was from a WATTPAD author but I can see that now, and I am SO GLAD there are two more books in this series because the ending had me like "Afisofhashfiaosp" The next two are coming out in 2016 and you better believe I will be stalking Netgalley for the others to read as soon as possible. My exact reactions went as followed:
The Good:
Eden is a really nice relatable character. She encounters social anxiety, peer pressure, frenamies, weight issues and fumbling first times. The writing is well done and has this amazing pacing that just keeps you reading. A lot of characters are fleshed out and not just cardboard stand ins. Everyone seems to have their own issues and we get little insights to their lives through Eden's point of view. She makes mistakes and can admit them but is also innocent enough at times to fully grasp the problems she is facing.
Also, the issue of the forbidden romance comes full circle in this book. First there is the undeniable attraction, pretending they don't like each other, succumbing to their desire, guilt, resentment, torment, and finally closure. All while on this lovely crazy train of feels and peer pressure. Yay YA books. I am super proud that this isn't a "throw caution to the wind" type forbidden romance book because Eden struggles with conforming to social norms and the pressure and guilt of the situation.
The Bad:
Eden's attraction isn't insta love but once they admit their feelings for each other it feels like the whole issue is fast tracked into dangerous territory. Plus Tyler admits to liking her from the moment he saw her and how he essentially fell head over sneakers for her. Reverse insta love, haven't seen that one in awhile. During the first half of the book Tyler is the biggest jack ass I have ever read about. I just wanted to slap him silly and scream at Eden to punch him in the face. He makes really stupid decisions that yes, have underlying reasons behind them but his "bad boy attitude" was almost too much at times.
Another issue was infidelity. I realize for most of the book they are trying to keep their attraction a secret and Tyler is in a really unhealthy spot in his relationship with Tiffany but cheating is a big giant NO-NO in my book. Sometimes you can't help attraction but acting on it is super wrong.
Overall I really
really
enjoyed this book. I had to fight with myself just to put it down after my breaks/lunches were over at work. I finished the last half in one sitting at home and instantly craved more. The epilogue definitely made me happy and I'm glad a lot of things worked out in the end.
Yes! Although this does play on some taboo ideas that might make people uncomfortable I recommend it to anyone looking for a steamy summer themed contemporary romance.