Mini Reviews are for books I read recently but enough time has past to not remember key details of the story, or I felt there was not enough to talk about for a full in depth review. These will be short and give a general feel of the book in terms of recommendation.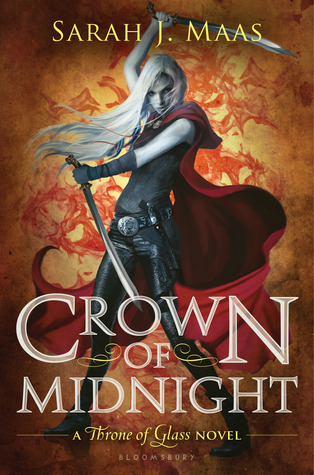 Title & Author: Crown of Midnight by Sarah J. Maas
Genre:  Young Adult- High Fantasy, Adventure, Romance
Release Date: August 27th 2013
Series: Throne of Glass #2
Publisher: Bloomsbury Children
Source: Scribd
Description: "A line that should never be crossed is about to be breached.
It puts this entire castle in jeopardy—and the life of your friend."
From the throne of glass rules a king with a fist of iron and a soul as black as pitch. Assassin Celaena Sardothien won a brutal contest to become his Champion. Yet Celaena is far from loyal to the crown. She hides her secret vigilantly; she knows that the man she serves is bent on evil.
Keeping up the deadly charade becomes increasingly difficult when Celaena realizes she is not the only one seeking justice. As she tries to untangle the mysteries buried deep within the glass castle, her closest relationships suffer. It seems no one is above questioning her allegiances—not the Crown Prince Dorian; not Chaol, the Captain of the Guard; not even her best friend, Nehemia, a foreign princess with a rebel heart.
Then one terrible night, the secrets they have all been keeping lead to an unspeakable tragedy. As Celaena's world shatters, she will be forced to give up the very thing most precious to her and decide once and for all where her true loyalties lie… and whom she is ultimately willing to fight for.
OVERALL THOUGHTS
Well this book left me a ugly mess and it took me months to work up the courage to read the third book. Nehemia is one of my all time favorite companion characters and this books was the biggest heart wrenching beautifully written book in this series so far. I kid you not I had to walk away half way through because I just could not stop crying every time I picked it back up. Now, I don't want that to scare anyone away from this series because it is amazing and should be read by everyone. The character growth spurred by the emotional turmoil in this book is astounding. I'm so glad I was able to pick up the third book with this one still fresh in my mind (yes even after months) and see how much all of the characters grew from the suffering. Essentially this book serves as a test against Celaena and all she stands for and I'm not giving anything away besides that.
WOULD I RECOMMEND THIS BOOK?
Yes 1000x over. But please be prepared for uncontrollable sobbing and the urge to eviscerate your enemies.
Goodreads | Amazon | Sarah J. Maas' Website