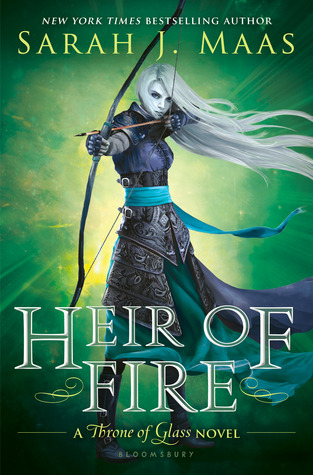 Title & Author: Heir of Fire by Sarah J. Maas
Genre: YA- High Fantasy, Romance, Adventure
Release Date: September 2nd 2014
Series: Throne of Glass #3
Publisher: Bloomsbury Children
Source: Library
Description: She was the heir of ash and fire, and she would bow to no one.
Celaena Sardothien has survived deadly contests and shattering heartbreak—but at an unspeakable cost. Now she must travel to a new land to confront her darkest truth…a truth about her heritage that could change her life—and her future—forever.
Meanwhile, brutal and monstrous forces are gathering on the horizon, intent on enslaving her world. To defeat them, Celaena must find the strength to not only fight her inner demons but to battle the evil that is about to be unleashed.
SHE WAS THE HEIR OF ASH AND FIRE, AND SHE WOULD MAKE THEM BURN
Celaena kicks so much ass in this book it's amazing. There is this nonstop action and even when things begin to slow down other things speed up (like my overwhelming urge to cry at every chapter) so this was a very fast paced book. At the beginning we start with about fiver different POVs and eventually six or seven from time to time. Some were more enjoyable than others but I still liked them all throughout the book. This book is brimming with plot twists and character development and I just can't believe how much I loved this book!
Furthermore, I'll have you know I officially lost all control of my life and now ship just about everything in the TOG series. Sorry not sorry. Celaena x Chaol? Yup. Celaena x Rowan? Yessssssssssssss. Dorian x Aedion? Highly likely. Don't underestimate me. Everything is canon with the power of imagination!
One issue I had with this book was my existential crisis concerning Rowan and Celaena. I had a feeling they were going to go the route she took with Chaol and start as friends and progress to more. Honestly, Rowan would be amazing with her and I just want to foam at the mouth because I loved Chaol but when I finally realized that them being together was looking a little more canon with each passing chapter I was just all: What have I done to myself?
Finally we get a POV from some deliciously nasty beasties like Manon Blackbear. At first I was skeptical and figured her chapters would bore me but I enjoyed them far more then I could have imagined. She is hell on wings and you got to love a female character like that.Her character design was also flawless and I love the imagery of white hair with gold eyes. She's like this innocent looking angel that will rip you to shreds if you turn your back to her. After reading some interviews Maas did about Queen of Shadows/where she is taking the storyline I am eager to see Manon and Celaena meet. Manon has depth and I can already see her character growth by the end of Heir of Fire. Where it will take her I'm not sure but I'll be gobbling up her new chapters like a starving street beggar.
FINAL THOUGHTS
Ok first of all I read this book thinking I had mentally prepared myself that was to be this huge shit storm of emotions. I was wrong. Not only did this wreck me but I also decided to just take the plunge and start the fourth book Queen of Shadows promptly after finishing this book. A lot of people who did not really enjoy the first two books but decided to stick with the series really REALLY enjoy this book. I can see why with all the action and various plot twists. If you have any reservations about The Throne of Glass series I would say to at least read the first three books, if you aren't hooked by then then I don't know what to tell you.
WOULD I RECOMMEND THIS BOOK?
Yes! I would recommend this series to anyone who loves fantasy and amazing plots with magic and romance and just *happy sigh* Uhg go read this series if you haven't already!
Goodreads | Amazon | Sarah J. Maas' Website