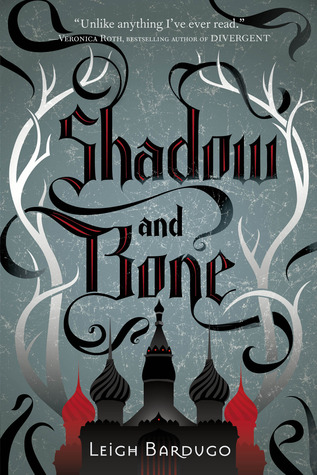 Title & Author: Shadow and Bone by Leigh Bardugo
Genre: YA- Fantasy, Romance, Adventure, Russian Culture
Release Date: June 5th 2012
Series: The Grisha #1
Publisher: Henry Holt and Co.
Source: Bought
Description: Surrounded by enemies, the once-great nation of Ravka has been torn in two by the Shadow Fold, a swath of near impenetrable darkness crawling with monsters who feast on human flesh. Now its fate may rest on the shoulders of one lonely refugee.
Alina Starkov has never been good at anything. But when her regiment is attacked on the Fold and her best friend is brutally injured, Alina reveals a dormant power that saves his life—a power that could be the key to setting her war-ravaged country free. Wrenched from everything she knows, Alina is whisked away to the royal court to be trained as a member of the Grisha, the magical elite led by the mysterious Darkling.
Yet nothing in this lavish world is what it seems. With darkness looming and an entire kingdom depending on her untamed power, Alina will have to confront the secrets of the Grisha . . . and the secrets of her heart.
RUSSIAN CULTURE MEETS AMAZING FANTASY
I don't know what took me so long to give this series a chance but I've finally gotten on the Grisha Train and I don't ever want to get off! This book was such a good quick read I finished about 75% in two sittings and then had to pace myself throughout the week because of work. The last book I read with any sort of Russian culture was the Vampire Academy series where Rose goes off after Dimitri and I was happy to see some more fresh cultural settings. Although I had to Google a few words/clothing to get a good sense of what I was reading about I still immensely enjoyed this book.
Alina is such a well relatable character. She doesn't really fit in anywhere and at times struggles with self esteem/self worth. Once given the chance to prove herself she jumps at the idea and of being accepted and needed. Although the weight of her power feels heavy at times and she still struggles with fitting in her slow and steady personal growth was wonderful to read. This book was such a rollercoaster. I rooted for the Darkling and wanted him and Alina to get to together SO HARD because obviously they pair well together (dark and light? Yes please.) but then all hell breaks loose and I'm all:
I won't be the first to say I DID NOT SEE THAT COMING. I mean, yea he seemed sort of bad but I wasn't thinking he was Mad-Scientists-Hell-Bent-on-Taking-Over-the-World bad. That's an entirely different category. He's still hot though, I'm just saying.
Anyway, the pace of the book was really good Bardugo was able to have this book span months and months without it feels long and boring by skipping over useless details a lot of authors like to elaborate on for no reason (which makes books 10000x longer in my opinion) so I was able to finish this book fairly quickly. The world building was nice but I felt like a lot of smaller things could have been elaborated on more but this is only the first book in the series so I'm sure there will be time all the Grisha secrets to be revealed.
I found myself really drawn to the different types of magic users and how each user could then be branched out into certain categories.
The use of magic that wasn't really "High Fantasy" but still gave the world a unique twist.
The constant juxtaposition of Alina and the Darkling in things like personality, clothing, magic was so wonderfully done.
Mal's character growth.
Alina's character growth.
There was no clear cut good/evil throughout the majority of this book and I really enjoy stories were the lines are blurred.
The clothing style! (Russian clothing is so gorgeous)
The last chapter or so everything sort of climaxed and then fizzled out very quickly.
Alina seemed to just realize she has all this power and then *poof* she is stronger than the Darkling and is able to break their bond. (It took literally a few sentences.)
The Darkling being a huge evil dick and so I can't ship him and Alina anymore. (Or can I? Mahahah)
That's about the only three issues I had with this book.
Yes! I'll admit it didn't WOW my socks off but it was still a really, really good read. It's sort of hard to find an amazing book after reading Queen of Shadows, I think all other books I read this year will pale in comparison. Sorry Bardugo don't take it personal. I will however, definitely be investing in the next two books and Six of Crows. Now leave me alone so I can hunt the internet for amazing fanart and fanfiction of Alina and the Darkling. I have no shame.
Check out some AMAZING fanart by Irene Koh on her Tumblr
Goodreads | Amazon | Leigh Bardugo's Website