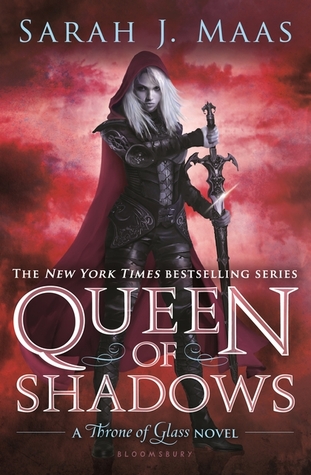 Title & Author: Queen of Shadows by Sarah J. Maas
Genre: YA- High Fantasy, Romance, Adventure
Release Date: September 1st 2015
Series: Throne of Glass #4
Publisher: Bloomsbury Children
Source: Bought
Description: The queen has returned.
Everyone Celaena Sardothien loves has been taken from her. But she's at last returned to the empire—for vengeance, to rescue her once-glorious kingdom, and to confront the shadows of her past…
She has embraced her identity as Aelin Galathynius, Queen of Terrasen. But before she can reclaim her throne, she must fight.
She will fight for her cousin, a warrior prepared to die for her. She will fight for her friend, a young man trapped in an unspeakable prison. And she will fight for her people, enslaved to a brutal king and awaiting their lost queen's triumphant return.
QUEEN OF SHADOWS- BLOWING EXPECTATIONS OUT OF THE WATER
First of all I would like to start this review off by saying "RIP Me." Because this book was everything I could have every wanted and then some. I can't even imagine how Sarah J. Maas has been able to top each book one after another and so how on earth am I going to survive books five and six when I could barely get through this book without:
Crying
Shouting with joy/anger
Gasping aloud
Never wanting the book to end
Reading this book way to quickly to be healthy
You read that right. I struggled with never wanting this book to end while simultaneously reading this book at top speeds. I'll just be sitting here twiddling my thumbs while I wait for the next one to come out. At least A Court of Mist and Fury can hold me over. If you have not read any of the Throne of Glass books I will warn you know: This Review Contains [Mild] Spoilers.
At the start of the book we arrive back in Erilea and I was deeply upset to see Rowan did not come with her, although he makes an appearance later on in the book. (Go Team Rowan!) Aelin is hungry for revenge but before she can achieve her goal of releasing magic she must first pair up with an unlikely person- Arobynn. I haven't had a chance to read any prequels so I knew very little of the King of Assassins but I could tell instantly that he was not a man to be taken lightly. Chaol also plays a huge role in this book on his quest to save Dorian and their whole brotherly undying devotion/love for each other almost tore my heart out.
Manon plays a vital role in this book and I am so unbelievably happy to see how much ass kicking she hands out. She's finally done taking orders and not protecting her Thirteen from the clutches of scummy Vlag infested humans. Manon also realizes she has the capability to feel human emotions and sweet Mother Mary when she cries in this book I did too.
Some new faces arrive as well as old favorites but either way this book is packed with action and an absurd amount of plot twists. It took me days to come down from my Queen of Shadows high and even longer to form a coherent review. I was surprised to see a lot of mixed reviews when it came to this latest installment but personally I think it is the best yet. We get a lot of different POVs and side plots that finally come together and lots and lots of Vlag deaths. What's not to like?
Overall this book packed a powerful punch and I could not put it down. High recommended for those that love fantasy and have read the Throne of Glass series, or just looking to start something new. Be prepared for a massive amount of feels and heartbreak. Also, if for some reason Sarah J. Maas is reading this review first of all I love your work and secondly please stop toying with my heart. When I thought they were all going to die I almost threw the book out a window.
Absolutely! I still cannot believe before this year I had never really heard of Sarah J. Maas, she's now one of my top favorite authors of ALL TIME. I also highly recommend her A Court of Thorns and Roses series if you like more fae action and emotional rollercoasters.
Goodreads | Amazon | Sarah J. Maas' Website