Mini Reviews are for books I read recently but enough time has past to not remember key details of the story, or I felt there was not enough to talk about for a full in depth review. These will be short and give a general feel of the book in terms of recommendation.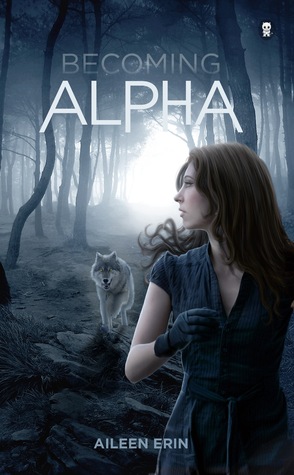 Title & Author: Becoming Alpha by Aileen Erin
Genre:  Young Adult- Urban Fantasy, Paranormal, Werewolves, Romance
Release Date: December 17th 2013
Series:  Alpha Girl #1
Publisher: Ink Monster, LLC
Source: Bought
Description: Tessa McCaide has a unique talent for getting into trouble. Then again, it isn't easy for a girl with visions to ignore what she sees. Luckily Tessa and her family are leaving California and moving halfway across the country, giving her the perfect opportunity to leave her reputation as "Freaky Tessa" behind.
But Tessa doesn't realize that kissing the wrong guy in her new Texas town could land her in far more trouble than she ever imagined. Like being forced to attend St. Ailbe's Academy, a secret boarding school for werewolves.
Even if the wrong guy did accidentally turn her into one of "them" and doom her to attending the weirdest high school ever, Tessa can't help her growing attraction to the mysterious Dastien Laurent.
When vampires attack St. Alibe's and her visions pinpoint an enemy in their midst, Tessa realizes that boy drama and her new-found canine tendencies might just be the least of her problems.
Fun New Werewolves Series
Finally a really fun YA twist on the age old paranormal werewolf franchise. Normally when I want to read about werewolves I have to read something extremely smutty that contains less pack dynamics and world building and more flirting/clothes ripping. The main character Tessa is really fun and has strong opinions and I love that she doesn't back down even in a very alpha dominated situation. If you are not well versed in pack dynamics/shapeshifter books pretty much women are the lesser of the two in packs and must follow the alphas orders and take their rank from their mates. Tessa however is strong willed and therefore a strong alpha.
I was a bit miffed that this was a insta love book but I've just come to expect it from most YA books. Dastien pretty much turns all macho and is like "I have to have you, chomp chomp now you're a werewolf opps sorry" and so on. Tessa's reaction though was great and she wasn't a push over and didn't lay down and roll over. She holds her own well and it's a nice refreshing twist given she is part witch. Not a lot of shifter books talk about mixed supernatural races so yay more unique plot twists!
Overall, I read this non stop and had to read the second one right afterwards. Glad I bought this, I can tell I'm going to enjoy the series. Unfortunately I can't be more in-depth with this book since I instantly read the next two books and can't really remember key details to the specific book. But at least they are insta buys in my opinion!
Yes, although this is more of a strictly ebook type series its fresh and has unique twists. Plus if you love werewolf books this will be a nice addition to your collection. I'm glad I came across Aileen's name and will be checking out more of her work.
Goodreads | Amazon | Aileen Erin's Website