Mini Reviews are for books I read recently but enough time has past to not remember key details of the story, or I felt there was not enough to talk about for a full in depth review. These will be short and give a general feel of the book in terms of recommendation.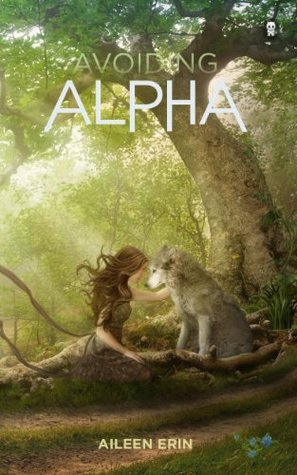 Title & Author: Avoiding Alpha by Aileen Erin
Genre:  Young Adult- Urban Fantasy, Paranormal, Werewolves, Romance
Release Date: May 13th 201
Series:  Alpha Girl #2
Publisher: Ink Monster, LLC
Source: Bought
Description: Seventeen-year-old Tessa McCaide has come a long way since her abrupt entrance into the world of werewolves, but she still has just as far to go before she's comfortable with turning full wolf. In the meantime, she's avoiding the topic of shifting to four legs any way she can. Thankfully her mate, Dastien Laurent, is quite the distraction.
When she finds her best friend, Meredith, getting sick in the bathroom, Tessa knows something's majorly wrong. Meredith was cursed years ago, and the dark magic kept her wolf dormant—only now the wolf is awake, and that same spell is killing her.
Tessa has no intention of sitting around while Meredith wastes away. Even if it means playing with magic she doesn't understand, she'll do anything to save Meredith's life. Including bargaining with the local coven of witches and its crazed leader, whose only goal is getting Tessa to join the witchy ranks.
Can Tessa save her friend without losing herself?
Great Followup in the Alpha Girl Series
Considering the second book in a series is when things slow down or get boring with all the needed plot development I was really happy to see this one was a quick shorter read and still packed a punch with action and drama. The plot development was good and not rushed and although some things could be better I'm a huge sucker for werewolf books and reading one with a strong female lead is always enjoyable.
Tessa pretty much dives head first into the witch side of her heritage and does everything she can to try and save her best friend Meredith. (I did notice Meredith's hair color changed. It was listed as having blue streaks the first time we see her, now its pink. Just an observation.) Although not everything Tessa does helps or even works its nice to see her trying new things and working hard for something she believes she can help with. I did find her headstrong personality to be a bit overwhelming and annoying at times but I'm chalking it up to Tessa's unique personality and strong alpha abilities so no complaints here.
My main issue is the price. The first book was over 400 pages and this was about the same price but half the pages. This book is listed as a novella and I don't really see how a second book in a series can be a novella, isn't that normally for short stories in between the main books? Should this be #1.5? Although if this is my only main issue with a book I'm happy.
Yes, this is a really nice second book and although its short it has a ton of action and we finally get to see Tessa change! Yay werewolves!
Goodreads | Amazon | Aileen Erin's Website