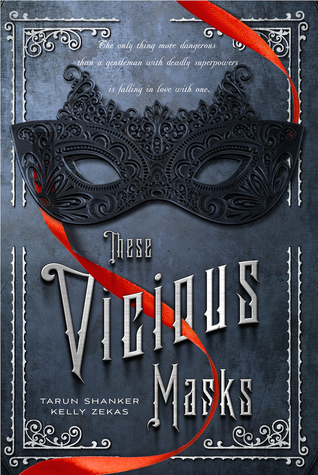 Title & Author: These Vicious Masks by Tarun Shanker and Kelly Zekas
Genre:  Young Adult- Historical Fiction, Romance
Release Date: February 9th 2016
Series: These Vicious Masks #1
Publisher: Swoon Reads
Source: ARC via the publisher
Description: England, 1882. Evelyn is bored with society and its expectations. So when her beloved sister, Rose, mysteriously vanishes, she ignores her parents and travels to London to find her, accompanied by the dashing Mr. Kent. But they're not the only ones looking for Rose. The reclusive, young gentleman Sebastian Braddock is also searching for her, claiming that both sisters have special healing powers. Evelyn is convinced that Sebastian must be mad, until she discovers that his strange tales of extraordinary people are true—and that her sister is in graver danger than she feared.
I received this book from Netgalley in exchange for an honest review. This does not affect my opinion of the book or the content of my review.
Ordinary people, extraordinary powers
This books selling point was "Jane Austen meets X-Men" and honestly, they couldn't have said it better. It all had a very League of Extraordinary Gentlemen feel with its early 1800s London backdrop and mysterious powered individuals popping up around every corner. Normally, historical fiction just isn't my thing. I'm not a fan of early days in society where woman are oppressed and their simple duties are to care about their image in society and marry off lest they become a spinster. Thankfully, Evelyn feels the same way. She's not comfortable to sit and dilly dally her life away so when her sister up and disappears she jumps at the adventure to save Rose.
Thankfully this book is a series because with that ending holy hell how could you not want the next book instantly. I'm almost cursing myself for reading this so early to publication date seeing as the next book hasn't even been announced. *insert grabby hands* Evelyn is everything we like in a heroine: stubborn, critical, sassy, fearless to a point and relatable. The story reads very quickly and we are never lacking in action and plot development. In fact, I dare say at the beginning I was skeptical there would even be any romantic developments between Evelyn and the two men who help her. It was pretty comical actually, they both vied for her attention and tried to one up each other but Evelyn just didn't care about anything but saving Rose. (Think Katniss with Peta and what's his face. IDK his name I never finished the first book.)
Of course in usual PTBN fashion I'm not giving away any major spoilers but obviously there is a very bad man who …better yet, think Hero's but in a Jane Austen time period. If you haven't seen Hero's I highly recommend the first two seasons. (Nothing past that because then it just gets plain wacky.) Things get a bit emotional toward the end but I loved every bit of it. T
Final thoughts
This is without a doubt going on my Best of 2016 list at the end of the year, and its only January! Sorry for the super vague review but this book is best to go into it without much information, trust me.
Would I recommend this book?
Absolutely! If you love the shows/movies X-Men, Hero's, League of Extraordinary Gentlemen, Sense8, and BBC Misfits you'll love this book!
Goodreads | Amazon | Tarun Shanker's Webstite | Kelly Zekas' Website