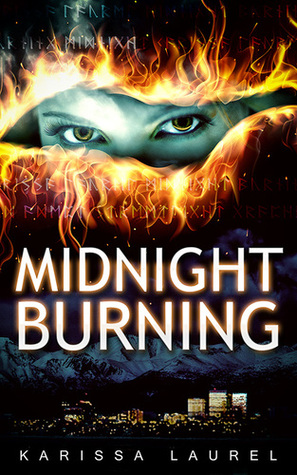 Title & Author: Midnight Burning by Karissa Laurel
Genre:  Fantasy – Urban fantasy, Mythology, Mystery, Thriller
Release Date: July 7th 2015
Series: Midnight Burning #1
Publisher: Red Adept Publishing, LLC
Source: Review Copy via the Author
Description: Solina Mundy lives a quiet life, running the family bakery in her small North Carolina hometown. But one night, she suffers a vivid nightmare in which a wolfish beast is devouring her twin brother, who lives in Alaska. The next morning, police notify her that Mani is dead. Driven to learn the truth, Solina heads for the Land of the Midnight Sun. Once there, she begins to suspect Mani's friends know more about his death than they've let on. Skyla, an ex-Marine, is the only one willing to help her.
As Solina and Skyla delve into the mystery surrounding Mani's death, Solina is stunned to learn that her own life is tied to Mani's friends, his death, and the fate of the entire world. If she can't learn to control her newfound gifts and keep her friends safe, a long-lost dominion over mortals will rise again, and everything she knows will fall into darkness.
2016 is apparently the year I read indie books and give out more 5 star ratings than I have since starting this whole damn book blog. I'm still very critical
Another Urban Fantasy to Add to Your Favorites List
Everything about this book was so intriguing and just pulled me in from the very first page. The writing was lovely and I wasn't really sure what to expect given the very ominous description. Werewolves? Supernatural Otherworldly People? Sexy Nordic Hunks that are as annoying as they are hot? Check, check, double check. Did Karissa pull all the qualities I want in a Urban Fantasy from my mind and put them in a book? Yes, I think she did. For that I could kiss her. This book was just SO GOOD.
The descriptive way she writes expresses the feelings of each character and scene perfectly. The characters were well developed, you can tell she did a lot of research to each location this book takes place in because although I've never been to Alaska it felt like I was there. I zipped through this book faster than you can say Sun Goddess. The fact that the next book isn't out already is bringing me heartache because that ending was amazing and I need to know what is going on right this instant! I'm also happy to say while this seems to be a possible love triangle, we get to see a somewhat conclusion at the end of this book. Bonus: If you like to root for the underdog/the guy the heroine normally doesn't go for you'll love this book even more. I don't like to give away spoilers so I'm just going to leave you with this amazing tidbit of info: picture Thorin as Alexander Skarsgård and you'll fall in love with him as quickly as I did.
This book rocked! I was sucked in instantly and left wanting more, more, MORE at the end. The second book is slated to release this year and you bet your bottom dollar I have a serious need to read it asap. 2015 was the year I really got into Viking mythology (mostly on accident) and this fed my addiction. Swoon worthy hunky men, thrilling adventures, heart breaking loss, be still my heart. I haven't gotten this into a Urban Fantasy book since Patricia Briggs.
Absolutely! This book has it all: amazing writing, well thought out characters, steamy attraction, thrilling plot twists and non stop action! If you love urban fantasy this is a must read.
Goodreads | Amazon | Authors Website