Mini Reviews are for books I read recently but enough time has past to not remember key details of the story, or I felt there was not enough to talk about for a full in depth review. These will be short and give a general feel of the book in terms of recommendation.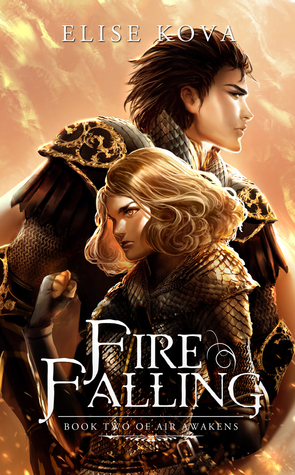 Title & Author: Fire Falling by Elise Kova
Genre:  Young Adult- High Fantasy, Romance, Magic
Release Date: November 19th 2015
Series: Air Awakens #2
Publisher: Silver Wing Press
Source: Bought
Description: Soldier… Sorcerer… Savior… Who is Vhalla Yarl?
Vhalla Yarl marches to war as property of the Solaris Empire. The Emperor counts on her to bring victory, the Senate counts on her death, and the only thing Vhalla can count on is the fight of her life. As she grapples with the ghosts of her past, new challenges in the present threaten to shatter the remnants of her fragile sanity. Will she maintain her humanity? Or will she truly become the Empire's monster?
With Earth's End recent release I figured it's high time I got this review up! I absolutely adore this series. It's got everything I love: high fantasy, epic smoldering romance, well written characters, super emotional plot twists and magic! I am going to have to say though this book about killed me with the emotional plot twists. I don't think my poor heart could take anymore of Elise's beautiful characters dying. I realize it was needed as a sort of turning point for Vhalla but still, my heart!
I don't want to dive too deeply into this book because if you haven't read Air Awakens just about all of what I want to talk about will be spoilers. So all I'm going to say is that you are hesitant to read the second book or even start this series I highly recommend it. The book was better than the first and given these are strictly self-published I am nothing but impressed by the quality of writing, editing, formatting and the amazing cover art. 
Goodreads | Amazon | Elise Kova's Website