Mini Reviews are for books I read recently but enough time has past to not remember key details of the story, or I felt there was not enough to talk about for a full in depth review. These will be short and give a general feel of the book in terms of recommendation.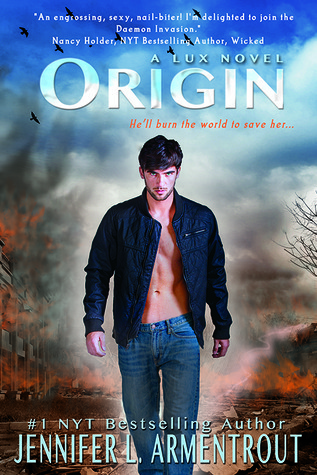 Title & Author: Origin by Jennifer L Armentrout
Genre:  Young Adult- Sci-Fi, Romance
Release Date: August 27th 2013
Series: Lux #4
Publisher: Entangled Publishing
Source: Bought
Description:  Daemon will do anything to get Katy back.
After the successful but disastrous raid on Mount Weather, he's facing the impossible. Katy is gone. Taken. Everything becomes about finding her. Taking out anyone who stands in his way? Done. Burning down the whole world to save her? Gladly. Exposing his alien race to the world? With pleasure.
All Katy can do is survive.
Surrounded by enemies, the only way she can come out of this is to adapt. After all, there are sides of Daedalus that don't seem entirely crazy, but the group's goals are frightening and the truths they speak even more disturbing. Who are the real bad guys? Daedalus? Mankind? Or the Luxen?
Together, they can face anything.
But the most dangerous foe has been there all along, and when the truths are exposed and the lies come crumbling down, which side will Daemon and Katy be standing on?
And will they even be together?
Hot Aliens, Lots of Action
I never got around to review all of the Lux series on here (books 1-3) because I read them around the time or a little before I started my blog. Basically I loved the idea of aliens (hot aliens!) that are born as triplets and have the ability to make humans into other human like people. Like, how cool is that? Clearly this idea was well thought out. The first book in this series was written really…poorly. There I said it. But the idea was SO GOOD that I just stuck with it and fell head over heels for it.
This book is the second to last in the main series (there are some in Daemon's point of view and a another two about other characters) and I just loved everything about it. There was so much action and adventure and so much heartache that I just clutched the book to my chest afterwards and sighed because it was over. Thankfully I still have another in the series left but I'm not ready for it to end! If you've read the other three books you'll know everything I said at the beginning isn't really spoilers because you find out pretty quickly but this book has some serious plot twists that left me gaping.
Obviously I would highly recommend this series and so long as you can get past the overly insta-love/hate relationship and teen cliches of the first book you are in for a fun ride!
Goodreads | Authors Website | Amazon