Title & Author: A Drop of Night by Stefan Bachmann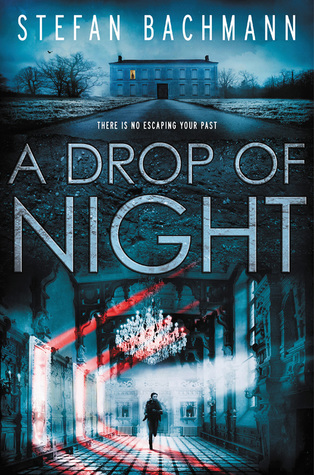 Genre:  Young Adult-Mystery, Thriller, Horror
Release Date: March 15th 2016
Series: Standalone
Publisher: Greenwillow Books
Source: ARC via the Publisher
Description: Seventeen-year-old Anouk has finally caught the break she's been looking for—she's been selected out of hundreds of other candidates to fly to France and help with the excavation of a vast, underground palace buried a hundred feet below the suburbs of Paris. Built in the 1780's to hide an aristocratic family and a mad duke during the French Revolution, the palace has lain hidden and forgotten ever since. Anouk, along with several other gifted teenagers, will be the first to set foot in it in over two centuries.
Or so she thought.
But nothing is as it seems, and the teens soon find themselves embroiled in a game far more sinister, and dangerous, than they could possibly have imagined. An evil spanning centuries is waiting for them in the depths. . .
A genre-bending thriller from Stefan Bachmann for fans of The Maze Runner and Joss Whedon's The Cabin in the Woods.
You cannot escape the palace.
You cannot guess its secrets.

Goodreads | Amazon | B&N | Indiebound | iBooks | The Book Depository
5 movies/books/folk tales/etc. that influenced A Drop of Night
A Drop of Night isn't like anything I've written before, so when people who've read my earlier books ask me why I decided to write this one I'm like, "Uhhhhh. GOOD QUESTION," and say something about being compelled to do so because of reasons. I don't know *exactly* why I wrote it—it's a new style for me, and a new genre and age group—but I know I couldn't have written anything else, and it was a lot of fun, and I also know where some of the influences came from. So, here's a handy list of things that inspired A Drop of Night:
1. A dream
The initial idea for this book came sometime in 2012 in a dream, which is lame, but sometimes things happen that way. The dream was about a group of teens feeling their way down a long, golden corridor. Sleep-Me somehow knew that the passage was underground, and the kids were trapped. And then something horrible stepped in front of them. And then I woke up and began to write down what happened next.
2. The French Revolution
I love history, especially the dramatic parts. There are so many weird, terrible, great stories in history, and I love the human element of huge-scale things like the French Revolution. A Drop of Night uses its historical framework very loosely; it's mostly set in the modern day and the flashbacks to the 1780s and '90s are set in a palace that would, in real life, be very difficult to build. But the French Revolution is the framing device and the catalyst for the story. It's a wild, rich, bloody period in history, and I highly recommend reading even the non-fiction accounts of it, because they're pretty intense.
3. My college
My college recently moved campuses from a 150-year-old building in downtown Zürich to a very modern, sleek, and vast building in the former industrial zone. In its basement are what feel like miles of passageways lined with doorways. It's not elaborate or baroque like the Palais du Papillon in A Drop of Night, but it's definitely maze-like and you MOST DEFINITELY can get lost down there. Sometimes while walking down one of those long passageways I wonder how scary it would be if there was someone, or something, at the end of it, and you're stuck in that dim tunnel with nowhere to go. Basically, my college is prime horror movie material.
4. Three Blind Mice
This is a folk song that pops up in the book, and it's quite creepy. The version I know goes like so:
Three blind mice
Three blind mice
See how they run
See how they run
They all ran after the farmer's wife
Who cut off their tails with a carving knife
Have you ever seen such a sight in your life
As three blind mice. . .
In the book, the song is recast for four blind mice. One for each teenager. I can't say who sings it, but he/she is not nice.
5. Resident Evil and Indiana Jones
This book isn't at alllllll like Indiana Jones tone-wise, though it does have traps and bloodshed that I'm thinking may have been inspired by Indiana Jones and the Last Crusade. The book definitely shares elements with the earlier Resident Evil movies. There are wildly outlandish / slightly futuristic traps, heavily secured buildings, and an MC who will do quite a lot to stay alive and is not exactly friendly. I think, in a nutshell, the book could be described as Resident Evil meets The Cabin in the Woods meets Marie Antoinette.
ABOUT STEFAN BACHMANN:
Stefan Bachmann was born in Colorado and spent of most of his childhood in Switzerland, where he's now a student of music at the Zürich University of Arts.
His debut, gothic-faery-fantasy THE PECULIAR, was a New York Times Editor's Choice and a Publishers Weekly Best Book of 2012, and was translated into eight languages. Its companion, THE WHATNOT, was released on September 24th, 2013.
THE CABINET OF CURIOSITIES: 36 TALES BRIEF AND SINISTER, a collection of scary stories he wrote together with authors Emma Trevayne, Claire Legrand and Katherine Catmull, was released May 27th, 2014, from Greenwillow/HarperCollins.
His next book, YA thriller A DROP OF NIGHT, about a group of American teens fighting to survive after they become trapped in an underground Versailles, will be out March 15th, 2016, also from Greenwillow/HarperCollins.
Tour Schedule:
3 Finished Copies of A DROP OF NIGHT (US Only)