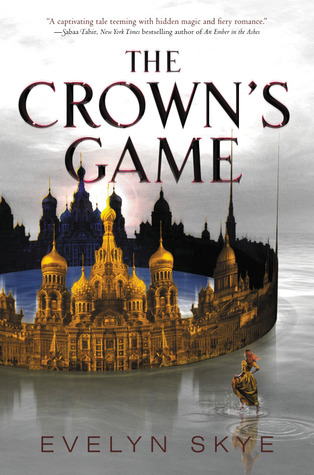 Title & Author: The Crown's Game by Evelyn Skye
Genre: Young Adult- High Fantasy, Russian Culture
Release Date: May 17th 2016
Series: The Crown's Game #1
Publisher: Balzer + Bray
Source: Review Copy via Giveaway on Goodreads
Description: Vika Andreyeva can summon the snow and turn ash into gold. Nikolai Karimov can see through walls and conjure bridges out of thin air. They are enchanters—the only two in Russia—and with the Ottoman Empire and the Kazakhs threatening, the Tsar needs a powerful enchanter by his side. (Highlight to read the rest. CONTAINS SPOILERS.)
And so he initiates the Crown's Game, an ancient duel of magical skill—the greatest test an enchanter will ever know. The victor becomes the Imperial Enchanter and the Tsar's most respected adviser. The defeated is sentenced to death.
Raised on tiny Ovchinin Island her whole life, Vika is eager for the chance to show off her talent in the grand capital of Saint Petersburg. But can she kill another enchanter—even when his magic calls to her like nothing else ever has?
For Nikolai, an orphan, the Crown's Game is the chance of a lifetime. But his deadly opponent is a force to be reckoned with—beautiful, whip smart, imaginative—and he can't stop thinking about her.
And when Pasha, Nikolai's best friend and heir to the throne, also starts to fall for the mysterious enchantress, Nikolai must defeat the girl they both love… or be killed himself.
As long-buried secrets emerge, threatening the future of the empire, it becomes dangerously clear… the Crown's Game is not one to lose.
---
Ever since reading the Vampire Academy series and the first book in the Grisha trilogy (yes I know, I am trying to find time to finish this) I have been craving another book with Russian influences. Enter The Crown's Game. In a stroke of pure luck I got my hands on the physical arc from a giveaway (which seems to be the only easy way to acquire physical arc's nowadays) and instantly fell headfirst into this wonderfully detailed Russian fantasy. I literally swooned over the descriptions of decadent food and golden palaces.
I'll admit it's not all roses and sunshine in terms of plot and characters but with this being Evelyn Skye's first book I am seriously impressed. Normally I read first time books and watch the author fumble over hastily written words bursting with potential but lacking the ability to fully reveal all the love and creativity said author holds. The Crown's Game is not one of those books. It's better. Sure the love interests blossomed just a tad quicker than I like and the plot twist was revealed just a little too early which left my head spinning but otherwise I found myself unable to put down this book. I took my time reading it and enjoyed each chapter like savoring an amazing cup of coffee on a cold morning. Normally I don't like to give out spoilers and the same applies for The Crown's Game. DO NOT READ THE DESCRIPTION ENTIRELY. I have left a big portion of the description above highlight-able to read but it gives away just about everything in this book. I saw plenty of reviews on goodreads that gave the same advice. So when this book landed on my doorstep I ignored the back and dove right in. Only after getting 90% of the way into it did I read the description and by that time I knew all of the plot so it wasn't a surprise. Personally I hate books that give everything away about the plot in the description. It really takes away the element of surprise when reading.
So what makes The Crown's Game such a great read?
It's set in Russia
It has magic
It has enchanters/enchantresses
The culture is amazingly well done
The imagery is phenomenal
It's gosh darn sad as hell at some parts (A++ books make me shed at least a few tears)
Plot twists for days
Heartbreaking romance
There are mentions of magical creatures (it would be better if there WAS magical creatures in it, just saying.)
A character is compared to a unicorn.
What part of Epic Russian Fantasy don't you people get??? Other than filling your head with tons of spoilers that's all I can say. Come talk to me once you do get a chance to read it because I would love to discuss this book with you all!
Overall I enjoyed this book. I wouldn't say it put me over the moon but it did feed the hunger for a new high fantasy book. A few things peeved me which was the way everyone flip flopped with their emotions or got over very emotionally devastating things like it was no big deal. Find out a earth shattering secret? Guess its time to just accept it and move on. Which really took away from the experience. Other than a few other smaller pickier things I was pretty happy with it. The atmosphere was amazing and very nostalgic and bittersweet. You went into this story thinking there would be a way to bend rules or for characters to redeem themselves but that never really happens and it was refreshing.
Do you like Russian themed books? Do you like magic? Do you like lots of plot twists and a fast paced book? Yes? Good, go read this book. Just don't read the description unless you want to have a bad time.