Title & Author: Love and First Sight by Josh Sundquist
Genre: YA- Contemporary, Romance
Release Date: January 3rd 2017
Series: Standalone
Publisher: Little, Brown Books for Young Readers

Source: ARC via Publisher
Description: Love is more than meets the eye.
On his first day at a new school, blind sixteen-year-old Will Porter accidentally groped a girl on the stairs, sat on another student in the cafeteria, and somehow drove a classmate to tears. High school can only go up from here, right?
As Will starts to find his footing, he develops a crush on a sweet but shy girl named Cecily. And despite his fear that having a girlfriend will make him inherently dependent on someone sighted, the two of them grow closer and closer. Then an unprecedented opportunity arises: an experimental surgery that could give Will eyesight for the first time in his life. But learning to see is more difficult than Will ever imagined, and he soon discovers that the sighted world has been keeping secrets. It turns out Cecily doesn't meet traditional definitions of beauty—in fact, everything he'd heard about her appearance was a lie engineered by their so-called friends to get the two of them together. Does it matter what Cecily looks like? No, not really. But then why does Will feel so betrayed?
This was so cute and funny. I've never read a book from a blind person's point of view and found this very interesting. I really didn't think I would enjoy this as much as I did. I loved that Will was able to make friends so easily and none of them cared that he was blind. Everyone was really supportive of him and that is something I love seeing in books. More often then not we see people bring others down or bully scenarios more than supportive roles taking the lead.
After the surgery I was glad to see Will struggle a little bit with grasping sight for the first time. As bad as that sounds it's realistic and that made it better in my opinion. He obviously got the hang of it eventually but being able to read about someone growing and changing in such a huge way was very humbling. I rooted for Will every step of the way and couldn't even begin to imagine what it must have been like to go through such a transformation.
Goodreads | Amazon | Authors Website
---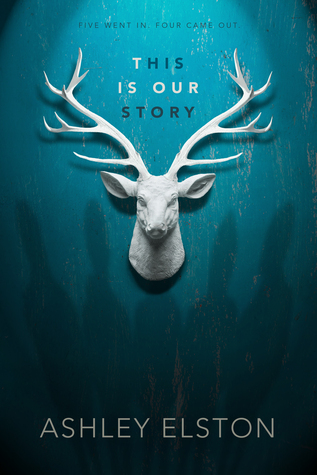 Title & Author: This Is Our Story by Ashley Elston
Genre: YA- Contemporary, Mystery, Thriller
Release Date: November 15th 2016
Series: Standalone
Publisher: Disney-Hyperion

Source: ARC via Publisher
Description: Five went in. Four came out.
No one knows what happened that morning at River Point. Five boys went hunting. Four came back. The boys won't say who fired the shot that killed their friend; the evidence shows it could have been any one of them.
Kate Marino's senior year internship at the district attorney's office isn't exactly glamorous—more like an excuse to leave school early that looks good on college applications. Then the DA hands her boss, Mr. Stone, the biggest case her small town of Belle Terre has ever seen. The River Point Boys are all anyone can talk about. Despite their damning toxicology reports the morning of the accident, the DA wants the boys' case swept under the rug. He owes his political office to their powerful families.
Kate won't let that happen. Digging up secrets without revealing her own is a dangerous line to walk; Kate has her own reasons for seeking justice for Grant. As investigates with Stone, the aging prosecutor relying on Kate to see and hear what he cannot, she realizes that nothing about the case—or the boys—is what it seems. Grant wasn't who she thought he was, and neither is Stone's prime suspect. As Kate gets dangerously close to the truth, it becomes clear that the early morning accident might not have been an accident at all—and if Kate doesn't uncover the true killer, more than one life could be on the line…including her own.
I don't read a lot of thriller/mystery so I was really hoping to find something new to enjoy when I received This Is Our Story. Unfortunately it didn't live up to the hype and my expectations. I've never read anything by Ashley Elston but I can tell she is a great writer. I just couldn't connect with the story and characters and although I wanted to know what happened I kept putting down this book over and over to read something else. I know a lot of other people enjoyed this so I'm hoping if you enjoy mysteries you will like this but it just was not for me.
Goodreads | Amazon | Authors Website