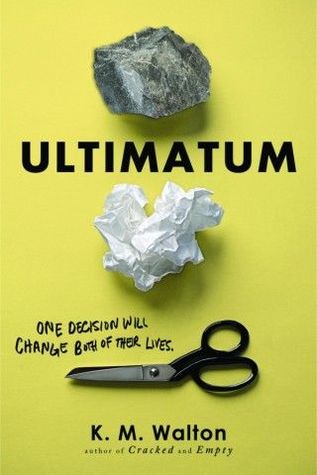 Title & Author: Ultimatum by K.M. Walton
Genre: Young Adult, Contemporary
Release Date: March 7th 2017
Series: Standalone
Publisher: Sourcebooks Fire
Source: ARC via Publisher
Description: A gripping, emotional story of two brothers who must decide what's more important: family or their differences.
Oscar is misunderstood. Ever since his mother died, he's been disrespected and bullied by his family, and he seeks refuge in his art. Vance is a popular athlete and wishes his brother would just loosen up and be cool. It was hard enough to deal with their mother's death without Oscar getting all emotional. Vance just wants to throw himself into partying, to live.
But when their father's alcoholism sends him into liver failure, the two boys must come face-to-face with their demons-and each other-if they are going to survive an uncertain future.
I received this book in exchange for an honest review
This book tore me up all into all kinds of sharp jagged pieces. By the end I think I lost track of how much I cried and my boyfriend was contemplating my mental health. Ultimatum is a dual POV but done incredibly well. Oscar's POV is set in the present. Vance's takes place from the earliest memory  leading all the way up to the present. The mix of timelines really draws the differences in these brothers and how their minds work. Vance is so brash and angry while Oscar is a introvert and quiet soul.
I'm not going to give anything away but by the end of this book I can guarantee you'll be misty eyed. I love their newfound relationship with one another and this book was the perfect mix of soul wrench sadness and coming of age moments.
Goodreads | Amazon | Authors Website