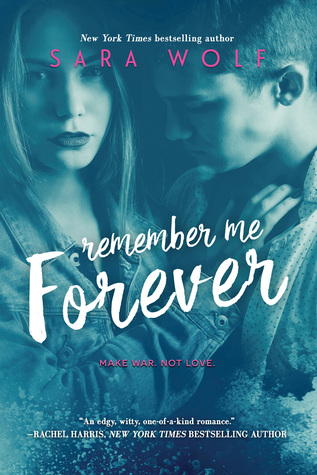 Title & Author: Remember Me Forever by Sara Wolf
Genre: Young Adult, Contemporary
Release Date: May 2nd 2017
Series: Lovely Vicious #3
Publisher: Entangled: Teen
Source: ARC via Publisher
Description: Isis Blake hasn't fallen in love in three years, forty-three weeks, and two days. Or so she thinks.
The boy she maybe-sort-of-definitely loved and sort-of-maybe-definitely hated has dropped off the face of the planet in the face of tragedy, leaving a Jack Hunter–shaped hole. Determined to be happy, Isis fills it in with lies and puts on a brave smile for her new life at Ohio State University.
But the smile lasts only until he shows up. The menace from her past—her darkest secret, Nameless—is attending OSU right alongside her. And he's whispering that he has something Isis wants—something she needs to see to move forward. To move on.
Isis has always been able to pretend everything is okay. But not anymore.
Isis Blake might be good at putting herself back together.
But Jack Hunter is better.
I received this book in exchange for an honest review.
This review contains slight SPOILERS of the first two books please do not read this if you have no read the first two books.
This book. THIS BOOK. We have gone through hell and back with Isis and Jack and still life hands them the shittiest cards possible. Can you cut them some slack Sara? C'mon!
Isis finds herself in uncharted territory with college. Far enough away that she doesn't know anyone but close enough to still visit her mother. Here, she can start over. Or, she could have if Nameless hadn't shown up. With one quick glance all of Isis' carefully crafted walls come crumbling down and she's left wading in open water. Just as she's deciding if its worth swimming over drowning in her past someone else shows up. Someone she hadn't seen since Sophia's funeral. Someone she hoped wasn't dead.
I'm torn between saying this was the best book out of all three with a really good ending and saying I want there to be more. But for there to be more, I assume there needs to be more drama/action and I think truthfully Jack and Isis have had a lifetime of that already. I'm sure there will be some controversy over whether Isis actually overcame her issues and moved on properly and for that all I want to say is everyone moves at their own pace. Everyone heals in different ways and that's OK!
Nameless plays a big part in this book and we get to see Isis grow as a person and overcome tough issues from her past. She's no longer that scared, broken girl who put up a front for everyone. I would be lying if I said this book never made me cry. I felt for Isis, rooted for her and cared for her like a parent. I wanted to see nothing but happiness for her. At the end of this book I'm thankful to see life is finally going her way.
For those of you that read the originally self published version and plan on reading this book again let me know if anything major changed? I never read the self published version since it wasn't on my radar and would love to know what changes were made or just your opinion on the book/series.
Goodreads | Amazon | Authors Website