It's been awhile since I did a DNF Round Up and I've gained a lot of books to add to the list sadly. Sometimes its impossible to get into a book, and other times you just know after the first few pages it isn't for you.
---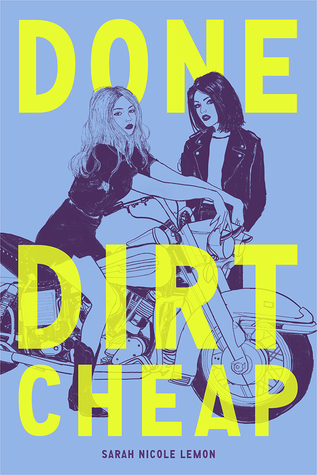 Done Dirt Cheap by Sarah Nicole Lemon
Format: ARC
Why I DNF: I tried getting into this book on more than a handful of occasions and each time I was met with the same thought. There is simply too much going on for me to understand. From the very beginning we are bombarded with way too much information. The biker gang thing was really interesting but there was so many characters and side plots and information I felt you already needed to know to figure out how it all fit together. I DNF (did not finish) this at about 35% the farthest I got trying to get into it.
---
The Other Inheritance by Rebecca Jaycox
Format: ARC
Why I DNF: I was drawn to this book by the cover art and the description. The book itself fell really flat and I ended up DNF (did not finish) it about 33% of the way in. I couldn't connect to any of the characters and the whole thing just seemed hard to follow.
---
Evil by Tijan
Format: Kindle Unlimited
Why I DNF: The plot was really unique but when "Angles" started showing up it got pretty weird. It wasn't bad for a self published book but after about 60% it didn't really hold my attention anymore. I sat it down to speed read a few others and the idea of picking this back up did not sound pleasing so ultimately I just returned the book.
---
Phoenix by by Autumn Reed & Julia Clarke
Format: Kindle Umlimited
Why I DNF: Uhg, I've tried reading this book three times now. I want to like this book because there isn't a lot of reverse harem stuff out there which I love, but the story and writing takes forever to get through. There is so much information and build up before anything ever really happens that by the time I made it to meeting some of the guys in the story I lost interest again. This was the farthest I made it in this book, about 27% (First time I made it 5%, then 19%) and I can't bring myself to waste anymore time on the series.
---
Tell the Wind and Fire by Sarah Rees Brennan
Format: ARC
Why I DNF: This was a retelling of A Tale of Two Cities which I have never read. The writing was good, I just could not for the life of me get invested in any of the characters or story. I was easily confused and honestly I think that's because you were supposed to know what happens in A Tale of Two Cities.
---
Sing Sweet Nightingale by Erica Cameron
Format: ARC
Why I DNF: From the very moment I started reading this book I just knew it wouldn't be for me. I could hardly get through the first chapter. The main characters were very bland and I had nothing to connect with them over. The idea behind the story was interesting but ultimately the writing and characters dragged it down and I gave up. Reading shouldn't feel like a chore.
---