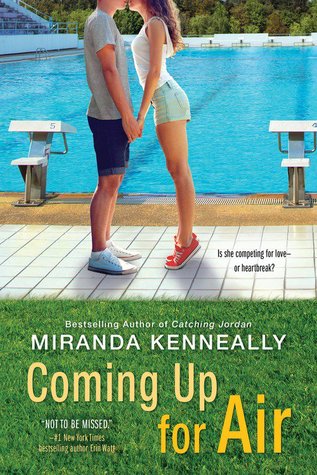 Title & Author: Coming Up For Air by Miranda Kenneally
Genre: Young Adult, Contemporary
Release Date: July 1st 2017
Series: Hundred Oaks
Publisher: Sourcebooks Fire
Source: ARC via Publisher
Description: Swim. Eat. Shower. School. Snack. Swim. Swim. Swim. Dinner. Homework. Bed. Repeat.
All of Maggie's focus and free time is spent swimming. She's not only striving to earn scholarships—she's training to qualify for the Olympics. It helps that her best friend, Levi, is also on the team and cheers her on. But Levi's already earned an Olympic try out, so she feels even more pressure to succeed. And it's not until Maggie's away on a college visit that she realizes how much of the "typical" high school experience she's missed by being in the pool.
Not one to shy away from a challenge, Maggie decides to squeeze the most out of her senior year. First up? Making out with a guy. And Levi could be the perfect candidate. After all, they already spend a lot of time together. But as Maggie slowly starts to uncover new feelings for Levi, how much is she willing to lose to win?
I am loving the Hundred Oaks series.  Maggie's story was really funny and awkward, the perfect summary of our teenage years. Although this wasn't one of my all time favorites (Breathe, Annie, Breathe is at the top) I still really enjoyed it. I have yet to find anything I dislike about Miranda Kenneally's books and for that I am highly thankful.
Maggie is a girl focused on her swimming. So focused she's slowly realizing as graduation looms she's never made out with a boy. Never done anything with someone for that matter. College is about enjoying yourself, exploring new opportunities and hooking up, but Maggie doesn't know how to do any of that. In typical strong steadfast Kenneally female fashion Maggie decides to ask for tips from her best friend Levi. What could go wrong? (Well, a lot actually.) Now Levi is one of my favorite Hundred Oaks boys. He's smart, sweet, determined, and reads constantly. Raven Boys, Harry Potter, the list goes on. He is hardly without a book at his side. Bless his heart.
Obviously I won't get into the romance/tips area as that's what reading the book is for, and trust me when I say it's equal parts charming and hilarious. I laughed out loud in more than one situation. For Maggie everything was so new and I got the fresh sense of it being exile rating and nerve wrecking at the same time.
One thing I wanted to touch on though was the use of a rival. Now naturally most competitive sports books come with rivals. What I felt with the use of Roxie, Maggie's rival in Coming Up For Air was a bit… lacking. I was torn right down the middle with wanting to know why she hated Maggie so much or wanting them to magically "make up" and be friends again. We get neither in this story and I just wish we got some insight on why Roxie goes through so much hassle to bully Maggie online and in the water. Now obviously if this was real life we wouldn't get closure, so I get that. It's believable and real. Doesn't stop me from wanting to know though.
Overall I really enjoyed this book and devoured it quickly. I would definitely buy this book to read again or loan out to some friends. If you've read any of the Hundred Oaks books I know you'll love this one as well.
Goodreads | Amazon | Authors Website