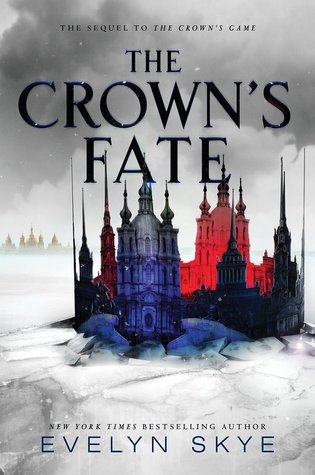 Title & Author: The Crown's Fate by Evelyn Skye

Genre: YA- Fantasy, Magic

Release Date:  May 16th 2017
Series: The Crown's Game #2
Publisher: Balzer + Bray  
Source: ARC via Publisher

Description: Russia is on the brink of great change. Pasha's coronation approaches, and Vika is now the Imperial Enchanter, but the role she once coveted may be more difficult—and dangerous—than she ever expected.
Pasha is grappling with his own problems—his legitimacy is in doubt, the girl he loves loathes him, and he believes his best friend is dead. When a challenger to the throne emerges—and with the magic in Russia growing rapidly—Pasha must do whatever it takes to keep his position and protect his kingdom.
For Nikolai, the ending of the Crown's Game stung deeply. Although he just managed to escape death, Nikolai remains alone, a shadow hidden in a not-quite-real world of his own creation. But when he's given a second chance at life—tied to a dark price—Nikolai must decide just how far he's willing to go to return to the world.
With revolution on the rise, dangerous new magic rearing up, and a tsardom up for the taking, Vika, Nikolai, and Pasha must fight—or face the destruction of not only their world but also themselves.

I received this book in exchange for an honest review.
I'm going to have to say this was a major let down in my opinion. I enjoyed it, don't get me wrong. I just felt like a good chunk of the story was drawn out and there was little development in the first 40% of the book. This takes place two weeks after the end of the first book and we pick up with Vika and Pasha grieving over Nikolai in their own ways all while still working for the crown. Pasha is about to be coronated in a month and Vika is fighting her bond to work for him after the betrayal at the end of the games last book.  We get to see more of Nikolai's mother who is a real piece of work and the whole issue the arose when she helped heal him just put a kink in my love for the story. Nikolai's whole personality changed after that and I just couldn't enjoy it. Not only did he come back strong and vengeful but it seemed like no one was able to tell he wasn't really himself. They chalked it up to him loosing and his grief and hatred but his mother was the one poisoning him with everything and it just made for a frustrating read.
Would I Recommend this? Only if you are looking to finish the series. It had some action but mostly I felt it was needlessly dramatic.
Would I purchase it? No