Title & Author: All the Stars Left Behind by Ashley Graham 

Genre: YA- Sci-Fi

Release Date:  June 6th 2017
Series: No?
Publisher: Entangled: Teen
Source: ARC via Publisher

Description: Relocating to Arctic Norway would put a freeze on anyone's social life. For Leda Lindgren, with her crutches and a chip on her shoulder the size of her former Manhattan home, the frozen tundra is just as boring as it sounds. Until she meets her uncle's gorgeous employee.
Unfortunately, no matter how smoking hot the guy is, Roar comes with secrets as unnerving as his moving tattoos. And Leda doesn't trust him.
Roar shouldn't be drawn to the moody human girl with eyes that leave him weak in the knees. But when Leda gets shot by one of his enemies and survives, Roar finally understands why he's drawn to her: Leda is exactly what he was sent to Earth to find. A weapon of immense power capable of saving his planet.
She just doesn't know it yet.

I received this book in exchange for an honest review.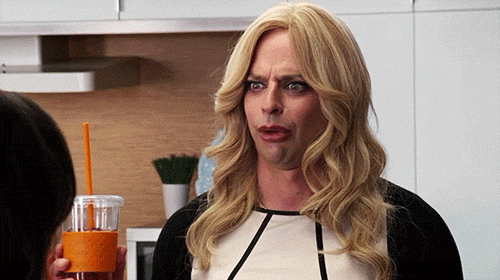 I really wanted to like this book more than I did. It had a lot of things I enjoy, sci-fi, Norway, aliens, space travel, a diverse main character, the list goes on. What I found though, was a book that was bursting with possibilities, but ultimately fell a bit flat. The complex issues and abilities that were in here were lacking in depth and exploration. Honestly, when reading this I felt like this was something that was still waiting to be expanded and explored. The first 40% was chalk full of all this information that I didn't know what to do with and the instant cosmic love thing Leda and Roar had was confusing. Leda would be screaming at herself mentally to not touch Roar and then she would do it anyway and hours would melt away in an instant as their fingers combined and then she would find herself in a different room in the house.  See example 1 for my reaction of when I read that.
The more I read, the more I made this face (see example 2.) Her insta love with Roar was pretty all consuming. She craved him and vice versa anytime they were around one another and even apart and it became so… cringey. They would touch each other while being right in front of her Uncle or when Nils walked into the other room to grab something. They were like lust filled teens on steroids.
Eventually we get some new information on the hows and whys of aliens (more than one kind, which was very cool) on Earth. I thought Leda's grandmother was really cool and her uncle was a good parental role. I hated Leda's mother with a passion though. She was selfish and wanted nothing to do with her. She showed up when Leda got shot (small spoiler) and pretty much said "This is why you called me? I need to get back to work." What a raging bitch. I was frothing at the thought of Leda being left with such a shitty mother and was happy she had her new family in Norway to care for her.
With the bad also comes the good. And there is a lot of good in this book. Leda was so smart and head strong yet at the same time fragile from her fathers passing and mothers lack of interest in her life. She has spina bifida and uses crutches which I thought was amazing because my sister uses crutches for her cerebral palsy and I'd never read a character who used crutches before. And it was written realistically. Her crutches didn't magically disappear when stuff started happening or become second thought to action. They were apart of who she was.
The side characters also really made this story. Each one had their own personality and involvement in the story instead of this tiny role like normal books. There was this great friendship and teamwork even though they were all so young. I also really enjoyed the way they talked about the government and how they were treated/could be treated. At one part a local cop threatens them with giving them to the US and being used as lab rats which is something I can see our government doing. I cackled a bit at that while also feeling bad.  The author dd a good job exploring how they would try to integrate the aliens into their society while also keeping tabs on them.
Leda's powers were awesome and the scene where she was floating in space? Amazing. I enjoyed the space travel and how it wasn't simple "we flew through space" sort of stuff, the author really expanded on space travel and the intricacies of the space ship. There was two huge plot twists almost at the end and one had me raging because of what Leda must do and the other just left me speechless. I mean, how crazy for the war to still be fought given what we find out. And how do more people not know this? (Super vague sorry, don't want to spoil it.) I was a left a bit underwhelmed when it seemed like they figured out how to stop everything with like five pages left. I wanted more of that strung out heartache and guilt not "Oh, we all feel really bad. Just kidding I figured it out!" Cue eye roll.
Overall it was fun if a bit flat, different, and had a great main character. I'm not really sure if she plans on making another book because I felt like nothing was done besides them explaining how they can end the war, not actually doing it. If so i definitely want more explanation and exploration. For being Ashley Graham's first book I am pleasantly surprised.
Goodreads | Amazon | Authors Website