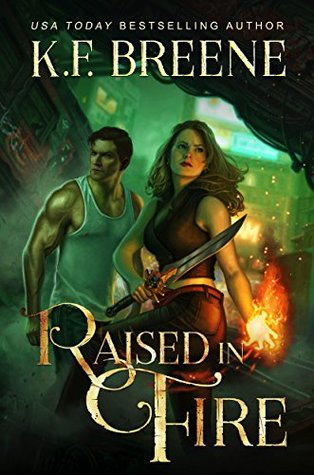 Title & Author: Raised in Fire  by K.F. Breene 

Genre: Urban Fantasy – Paranormal, Magic, Vampires, Witches, Mages

Release Date: May 16th 2017
Series: Fire and Ice Trilogy #2
Publisher: Self Published/Indie

Source: Purchased

Description: It is a common truth in my life that when it rains, it pours.
The killings that once plagued New Orleans are cropping up again in Seattle. The local office is stumped. I'm called out to lend a fresh set of eyes, and my unique magical touch.
It's only when I get there that I realize the Seattle office isn't stumped at all.
They're being silenced by the Mages' Guild, a corrupt magical institution that doesn't want word to get out of what is plaguing the city. Worse, news of my magic might've slipped down to the underworld, hitting the ears of some extremely powerful demons.
What I thought was a routine murder investigation turns into a fight for my life. With the help of Darius, my stalker elder vampire, and my dual-mage side kicks, I somehow have to dodge the Guild in order to stop one of the most powerful demons I've ever encountered. If I don't? It'll escape back down below with proof of what I really am.
My life hangs in the balance, and this time, I can't see a way out.

Raised in Fire was amazing! I got so much of what I love in Urban Fantasy and this book even ticked off some of my book wish list qualities. Reagan is quickly becoming one of my favorite heroines. She is quick thinking, sarcastic and crazy as hell and doesn't beat around the bush.
My only issue with this series is that it is a trilogy. I need MORE! More of Reagan and Darius, more of Dizzie and Callie. Hell, even more of Page! I am going to be so sad when it ends, which will be very soon.
I don't want to give anything away but if you are looking for a strong female lead and an amazing Urban Fantasy series I highly recommend this one!
Would I buy this book? Already did!
Would I recommend it? YES!
Would I re-read it? Hell yes!