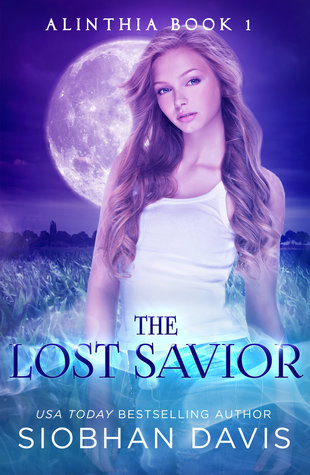 Title & Author: The Lost Savior by Siobhan Davis

Genre: Young Adult- Sci-Fi, Romance, Reverse Harem

Release Date: February 1st 2018
Series: Alinthia #1
Publisher: Self Published

Source: ARC via Author

Description: They came from another world to protect her. Now it's her destiny to save them … 
Tori King is a normal senior in high school. Head over heels in love with her childhood sweetheart, she is busy making plans for college when a chance encounter with an alien bounty hunter turns her world upside down. Now, she's experiencing terrifying changes and developing supernatural abilities that leave her questioning her entire existence.
Then the arrival of four hot new guys at school has everyone talking—especially when they become fixated on Tori, following her wherever she goes. She can't shake them off, and as they grow closer, she finds herself drawn to all four of them in ways she cannot explain.
When they finally reveal their true identity, and why they're here for her, she discovers everything she thought she knew about herself is a lie.
Because there is nothing normal about Tori King.
And she's about to discover exactly how underrated normal is.
This mind-bending alien reverse harem series is only suitable for readers aged seventeen and older due to language and mature content
---
I received this book in exchange for an honest review.
It's not everyday you get an author contacting you to review a reverse harem book. I feel like my life has peaked and it's all down hill from here. It is no secret that I love reverse harem on the blog and so when Siobhan's assistant contacted me I knew I had to read this book.
The Lost Savior is a really great mix of everything I love. There is heavy Sci-Fi elements (aliens, alien tech, cool mind reading and other such stuff), swoon worthy young men that all want to protect Tori, action, drama, character growth, romance. The list goes on and on! Plus, when reading reverse harem I tend to put it through the "CL Stone Test" as she was the first RH series I ever read and few live up to her complex and creative characters. I'm happy to say that this book passed my test with flying colors. It was definitely a fun read and I look forward to the rest of the series.
The book starts off with a bang and stays steadily action packed enough for someone who isn't interested in smaller details like little plot points and drama between Tori and her boyfriend to stay interested. I for one, liked the dynamic of Tori and her high school sweetheart as many reverse harem books start off with insta love and everything is butterflies and rainbows but with The Lost Savior we see Tori struggle internally with what is right and what her body and soul truly want. She isn't blindly following the men and holds her own on all fronts. She was easily one of the best reverse harem heroines I've read. No clumsy/falling tendencies or overly depicted Mary Sue characteristics. All the male characters (Maddox, Dane, Cooper, Beckett) were interesting and just unique enough that any sort of reader would find one that meets their "dream guy" requirement. (Or if you're like me and see each other them as the ideal guy then the more the merrier!)
I don't want to get into the story too much as I feel like sometimes reviews give a lot away but I wanted to just say that Tori has great friends (for the most part) and a very understanding and open home life that makes this story extremely unique and great. My only complaint is that the story takes place during the winter/spring-ish months (there is multiple occasions when its cold and snowing out) and in one part Tori goes out with the guys to a theme park, which if you all know theme parks, close during the cold season. That took me out of the story for a spell as I was left thinking I sprung forward in time drastically.
Overall the story was great I am eager for the next book!
Would I buy this book? Yes

Would I recommend it? YES!

Would I re-read it? Yes