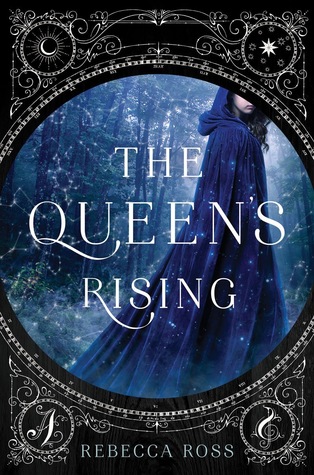 Title & Author: The Queen's Rising by Rebecca Ross
Genre: YA- Fantasy
Release Date: February 6th 2018 
Series: Yes
Publisher: HarperTeen
Source:  ARC via Publisher

Description: When her seventeenth summer solstice arrives, Brienna desires only two things: to master her passion and to be chosen by a patron.
Growing up in the southern Kingdom of Valenia at the renowned Magnalia House should have prepared her for such a life. While some are born with an innate talent for one of the five passions—art, music, dramatics, wit, and knowledge—Brienna struggled to find hers until she belatedly chose to study knowledge. However, despite all her preparations, Brienna's greatest fear comes true—the solstice does not go according to plan and she is left without a patron.
Months later, her life takes an unexpected turn when a disgraced lord offers her patronage. Suspicious of his intent, and with no other choices, she accepts. But there is much more to his story, and Brienna soon discovers that he has sought her out for his own vengeful gain. For there is a dangerous plot being planned to overthrow the king of Maevana—the archrival kingdom of Valenia—and restore the rightful queen, and her magic, to the northern throne. And others are involved—some closer to Brienna than she realizes.
With war brewing between the two lands, Brienna must choose whose side she will remain loyal to—passion or blood. Because a queen is destined to rise and lead the battle to reclaim the crown. The ultimate decision Brienna must determine is: Who will be that queen?
---
I received this book in exchange for an honest review.
I loved this book immensely. How much? Enough that when I think about it I get this big dopey and dreamy look on my face.  Never have I found a fantasy book that hit ALL. THE. THINGS. I. LOVED. Seriously, Ross has a way of making a soft floaty book never dull. What does the mean exactly? Well, when you read fantasy or epic adventure type stories there is always a part where it either drags or the author seems to have written themselves into a corner and has to do a huge plot twist/super bad thing to the main character to move the story along. Which I hate. I hate being invested in a character and there be bad things repeatedly happening to them. I get so, so sad. In the Queen's Rising I was left struck by the age old "Oh no, something bad HAS to be coming up. The story is moving too easily for Brienna." Yes, there was small road blocks but not the type that are overused. Also, the fact that Brienna isn't the end all chosen one in the grand scheme of things but a small part in the rebellion really hammered home how well Ross can create a story. I was never pushed into feeling like Brienna needed to be more. She simply does her best and helps everyone while being strong and independent on her own.
For once, we have a fantasy book that goes according to plan. Things go off without a hitch and until I finished this book I never realized how much I wanted this. This story proves how even when an adventure isn't fraught with constant struggle it's still possible to create a stunning, addicting book that never dulls. And the writing! Oh the writing! It was so visually stunning and imaginative everything about the world Brienna lived was lush and beautiful and I yearned to step onto the page and experience it myself. I honestly do not even know how to describe it because nothing will do it justice. From this point on no matter what Ross writes she is an instant buy author for me.
I'm not going to give anything away but the romance in this book is so fluffy and cute and just *dreamy sigh* paired with the epic quest of someone who is not the chosen one, this book is a must buy and read for everyone.
Would I buy this book? YES
Would I recommend it? Yes, it is SO GOOD.
Would I re-read it? Absolutely!