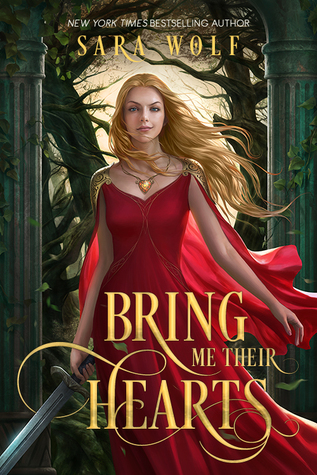 Title & Author: Bring Me Their Hearts by Sara Wolf
Genre: YA- Fantasy
Release Date: June 5th 2018
Series: No
Publisher: Entangled: Teen
Source:  ARC via Publisher

Description: A lush, unique new fantasy trilogy about a girl tasked with stealing the prince's heart…literally, from the New York Times bestselling author of the Lovely Vicious series.
Zera is a Heartless – the immortal, unageing soldier of a witch. Bound to the witch Nightsinger ever since she saved her from the bandits who murdered her family, Zera longs for freedom from the woods they hide in. With her heart in a jar under Nightsinger's control, she serves the witch unquestioningly.
Until Nightsinger asks Zera for a Prince's heart in exchange for her own, with one addendum; if she's discovered infiltrating the court, Nightsinger will destroy her heart rather than see her tortured by the witch-hating nobles.
Crown Prince Lucien d'Malvane hates the royal court as much as it loves him – every tutor too afraid to correct him and every girl jockeying for a place at his darkly handsome side. No one can challenge him – until the arrival of Lady Zera. She's inelegant, smart-mouthed, carefree, and out for his blood. The Prince's honor has him quickly aiming for her throat.
So begins a game of cat and mouse between a girl with nothing to lose and a boy who has it all.
Winner takes the loser's heart.
Literally.
---
I received this book in exchange for an honest review.
Words cannot express how utterly overjoyed I was to receive an advanced reader copy of Bring Me Their Hearts. But this gif sure can.
I am in LOVE with everything Sara Wolf writes and this is no exception. Was it full of witty banter? You bet. Did it make me swoon over the gorgeous love interest? You're old gods damn right it did. Did it have amazing world building and fun, fresh characters? Of-fucking-course. Sara has this amazing way of portraying vulnerable and relatable characters while still giving them that zing that makes them pack a powerful punch.
In this unique fantasy world where witches can save you from true death for the ultimate price, we meet Zera. Zera is what you have come to love and know of Sara Wolf, a spitfire witty young woman who is able to go head to head with even the most surly of royalty. Lucien d'Malvane being that surly royalty as he's as sour and disdainful as they come. I was originally worried that this would be a blatant rewrite of the Lovely Vicious series (which I loved loved loved) but Lucien and Zera are as fresh as they come. The world building also helped really bring out the shifting dynamic between the two characters and the underlying tension of humans versus witches and the possibility of war breaking out at any given time.
Speaking of world building, we get some very unusual and amazing characters in this story. Blue skinned cat people who ride giant bug looking creatures and are generally fighters/assassins? Sign me the fuck up. Also, pale skinned red eyed people who live under the earth and safe guard the "upper world" from an immensely dangerous and magical creature? I was totally sold.
Overall this was a nonstop witty, action and plot twist filled ride and I loved every minute of it.
Would I buy this book? YES.
Would I recommend it? YES
Would I re-read it? YESSSSSSSSSSSSSS