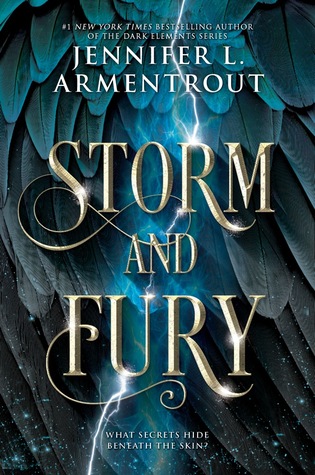 Title & Author: Storm and Fury by Jennifer L. Armentrout
Genre: YA- Paranormal, Fantasy
Release Date:  June 11th 2019
Series: The Harbinger #1
Publisher: Inkyard Press
Source: ARC via Publisher

Description:  Eighteen-year-old Trinity Marrow may be going blind, but she can see and communicate with ghosts and spirits. Her unique gift is part of a secret so dangerous that she's been in hiding for years in an isolated compound fiercely guarded by Wardens—gargoyle shape-shifters who protect humankind from demons. If the demons discover the truth about Trinity, they'll devour her, flesh and bone, to enhance their own powers.
When Wardens from another clan arrive with disturbing reports that something out there is killing both demons and Wardens, Trinity's safe world implodes. Not the least because one of the outsiders is the most annoying and fascinating person she's ever met. Zayne has secrets of his own that will upend her world yet again—but working together becomes imperative once demons breach the compound and Trinity's secret comes to light. To save her family and maybe the world, she'll have to put her trust in Zayne. But all bets are off as a supernatural war is unleashed…
I received this book early in exchange for an honest review.
I'm going to be honest and say I never read the original series this is a spin off for, but I do own it. And now that I read this book I have a BURNING NEED to read it. Holy hell Jennifer does it again. I was so sucked into this book I finished it in less than 24 hours. (Don't ask me how much sleep I got, it wasn't enough but it was worth it.)
Trinity is kickass and very full of herself but I loved her so much. And you know what? She has the right to be full of herself. Her unique predicament puts her above the Wardens and I loved seeing the dynamic of them and how she played into their world. Pretty much Wardens are gargoyles who are on the "holy" side of a never-ending cosmic war to keep the balance between good and evil on Earth. Humans have an inherit right to free will and Wardens try their best to make sure nothing gets in that way. Namely Demons, and the like. Where does Trinity fit into all this? You'll have to read the book to find out because it's massive and also a total plot twist near the end of the book. But I guarantee it's worth it!
This story has it all. Drama, slow building romance, tension, a ton of action, and very very witty and fun characters. This might be a slight spoiler so highlight to view: when she and Zayne start working with demons I loved it! They were so FUN. I also really enjoyed the use of other supernatural characters like the witches. I'm hoping we will see more but who knows. The story is definitely fun enough with what it has.
Would I buy this book? YESSSSS I'm pre-ordering it ASAP
Would I recommend it?  YES OMG YES
Would I re-read it? I'm definitely going to have to reread this before the next one comes out and I'm not complaining. 😉
Pre-Order Campaign: If you pre-order this book through Fountain Bookstore you will get a limited edition bookmark and a cool Book Baeu Bag at no extra cost!
Goodreads | Pre-Order with Fountain Bookstore| Pre-Order from Amazing |