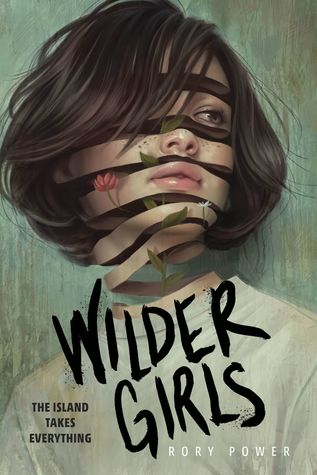 Title & Author: Wilder Girls by Rory Power
Genre: YA- Horror, Mystery, LGBTQ
Release Date:  July 9th 2019
Series: Standalone
Publisher: Delacorte
Source:  ARC via Publisher

Description: It's been eighteen months since the Raxter School for Girls was put under quarantine. Since the Tox hit and pulled Hetty's life out from under her.
It started slow. First the teachers died one by one. Then it began to infect the students, turning their bodies strange and foreign. Now, cut off from the rest of the world and left to fend for themselves on their island home, the girls don't dare wander outside the school's fence, where the Tox has made the woods wild and dangerous. They wait for the cure they were promised as the Tox seeps into everything.
But when Byatt goes missing, Hetty will do anything to find her, even if it means breaking quarantine and braving the horrors that lie beyond the fence. And when she does, Hetty learns that there's more to their story, to their life at Raxter, than she could have ever thought true.
---
I received this book early in exchange for an honest review. You can find a list of trigger warnings on the authors page here. 
Do you like mystery?
Do you like horror?
Do you like suspense?
Then I have a book for you!
Wilder Girls completely blew all my expectations out of the water. I enjoyed it from the very first line to the end. I even tried to finish it in one day. I was up until 1 AM trying to frantically find out how it ends but ultimately my sleepy eyes won that fight. The book is first person and primarily from Hetty's point of view but we do get one other persons point of view later on. I really enjoyed Hetty. She was headstrong and extremely faithful to her friends. Byatt is an important character in that she is a catalyst to Hetty's growth. Nothing really ever changed between her and Reese as Reese was more of a loner that slowly became part of their group. I really enjoyed Reese and finding out how she really feels and seeing her pull through some of the toughest parts of this book.
The ending and the explanation of the "how" or I guess I should say origin of the Tox completely made my skin crawl. When Hetty began screaming "Get it out! Get it out of me!" I felt right there with her. Cue shivers as I type this because holy hell I would have never thought of it. This is Rory Power's first book but needless to say I'm firmly hoping it wont be her last. She brings a certain brand of chilling suspense and eeriness to her story that I find hard to see translated from the best horror films.
The only real issue I had with the book is a personal thing in that the ending just… happens. After some reflecting I realized it parallels a good old fashion horror movie where you just really don't know how it all ends in the grand scheme of things and that is the scariest bit of all.
Would I buy this book? Hell yes. It was so spooky I want to see it made into a film!
Would I recommend it? YES OMG PLEASE READ THIS SO I CAN TALK TO YOU ABOUT IT.
Would I re-read it? YES 100x YES
Goodreads |Buy on Amazon | Author's Website